Lead Management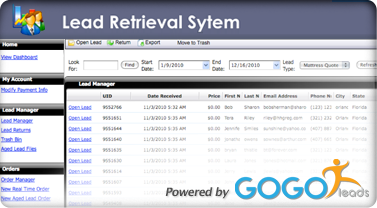 If you join our advertising network, you will have access to the industry's most exclusive ROI software. With our technology you will be able to harness the power of our software that brings a new level of accountability and inginuity to your current business.
Our proprietary software is known today as GOGO Leads, it allows you to effectively and efficiently manage a team of sales people. Our GOGO Leads software also keeps you on top incoming leads and prompts your sales people to become more involved and help your company to receive a higher ROI. By following up and engaging new leads your company can expect to receive a higher closing ratios and take back a significant portion of the market.
If you have multi channel advertising, that includes TV, Radio, Newspaper, Social Media, Magazines, Online, our software will allow you to see clearly where your leads are coming from and which form of advertising is most effective.
Our lead management software can be utilized by any industry, no matter how large or small, as an effective method to track leads, increase sales performance, and track market and advertising effectiveness.
Hot Campaign Technology
"The Next Level Of Monetization"
Multi Channel Advertise
Increase Performance
Manage Sales People
Combine CRM & Sales
Gain Market Share
Analytical Data
Accountability
Scalability