Contextual Advertising
Search Network Advertising
Millions of customers are searching for your products and services, right now! We can place strategic ads on various websites to directly target your demographic - then sit back and watch as sales of your products and services take off. Your promotion will be position in front of millions of customers by positioning them on the most heavily trafficked websites.
We have partnered with some of the largest editorial companies around the world to deliver ads on high traffic websites. There's almost an infinite number of websites where your contextual advertising could show up, but we take a direct approached to the demographic potentials of contextual advertising. We pick the websites where you get the most bang for the buck.
Another option in contextual advertising, if you have a substantial amount of traffic already, is to place other advertisers' ads on your website. By having ads placed on your website you can a new stream of revenue. The amount of revenue that could be made through contextual advertising within your website depends primarily on the amount of traffic your website generates and how relative the content is in relation to the ad that is being shown.
Contextual advertising is very flexible when it comes to creating budgets where traditional forms of advertising can be very expensive. There's a place for contextual advertising within any advertising budget it just depends on how busy do you want to be?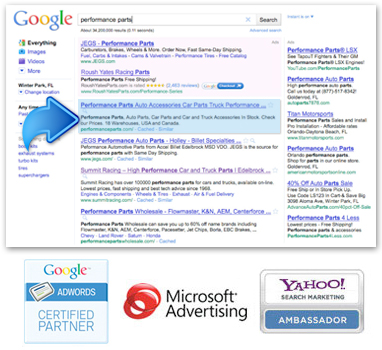 Hot Campaign Technology
"The Next Level Of Monetization"
Multi Channel Advertise
Increase Performance
Manage Sales People
Combine CRM & Sales
Gain Market Share
Analytical Data
Accountability
Scalability